DEKRA
Roadworthy Vehicle Inspection
Legal Requirement
You can obtain a legal Roadworthy Certificate from any of our branches nationwide.
Additional Services
DEKRA also offer alternative services like licensing & registration and license plates.
A Timesaver
A roadworthy takes 20-30 minutes to complete depending on how many vehicles are in the queue.
Peace of mind
Compare to the rest of the services how much peace of mind will a Roadworthy Vehicle Inspection give me?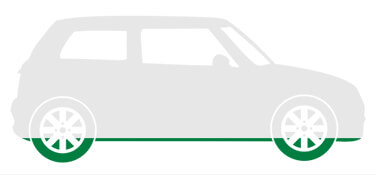 Try a Multi-Point Check for a more detailed report.
Ideal time for the pitstop
There is a time and place for everything, we suggest the following:
You are buying a car

You own a car

Your are selling your car
A quality Roadworthy Vehicle Certificate is a legal requirement that is compulsory on every vehicle in South Africa. It is against the law to drive a car that is not Roadworthy.
DEKRA is the leading supplier of Roadworthy Tests in South Africa and with human life being so precious, choosing a DEKRA Roadworthy Test will ensure better quality vehicles on South Africa's roads.
By diligently applying the regulations of the National Road Traffic Act and SANS 10047/SANS 10216 and with DEKRA's extensive knowledge and international experience, consumers can be assured of a Roadworthy Vehicle Inspection that meets the highest vehicle testing standards.
The need for a high quality Roadworthy Vehicle Inspection is never given a thought as it is usually someone else's problem and is just a compliance requirement as part of the registration process.
If you are in the process of purchasing a vehicle, a legal Roadworthy Certificate is required before the vehicle will be registered on your name. Usually the dealership selling you the car will take care of this on your behalf, but if it is a private deal you will have to make the arrangements yourself.
For detailed vehicle roadworthy checklists; caravan roadworthy checklists; motorcycle roadworthy checklists and trailer roadworthy checklists, please contact your nearest branch.
Try a Safety Check for a more detailed report.